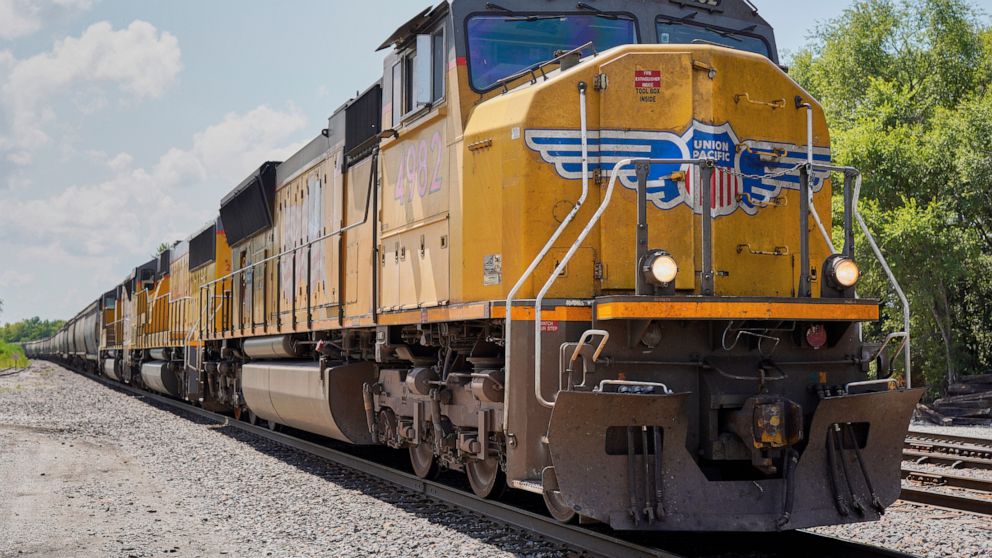 Union Pacific Corp. delivered 4% more profit in the second quarter even though it hauled less freight because it cut its expenses by 7%.
The Omaha, Nebraska-based railroad said Thursday it earned $1.57 billion, or $2.22 per share, in the quarter. That's up from $1.51 billion, or $1.98 per share, a year ago.
The results, aided by Union Pacific's operations changes, beat the $2.12 per share that analysts surveyed by Zacks Investment Research expected.
The railroad said revenue declined 1% to $5.6 billion in the period, which still beat Street forecasts of $5.58 billion.
Union Pacific cut its expenses by 7% to $3.3 billion in the quarter. That helped it deal with a 4% drop in the shipments it handled.
Union Pacific has been working to streamline its operations by running trains on a tighter schedule so it can use fewer locomotives, cars and employees to move the same freight. The company operates 32,400 miles of track in 23 Western states.
Shares of Union Pacific rose $5 in premarket trading to $169.55. The stock is up 19% since the beginning of the year, while the S&P 500 index has risen 19%.
—————
Elements of this story were generated by Automated Insights (http://automatedinsights.com/ap) using data from Zacks Investment Research. Access a Zacks stock report on UNP at https://www.zacks.com/ap/UNP
Get more stuff like this
Subscribe to our mailing list and get interesting stuff and updates to your email inbox.