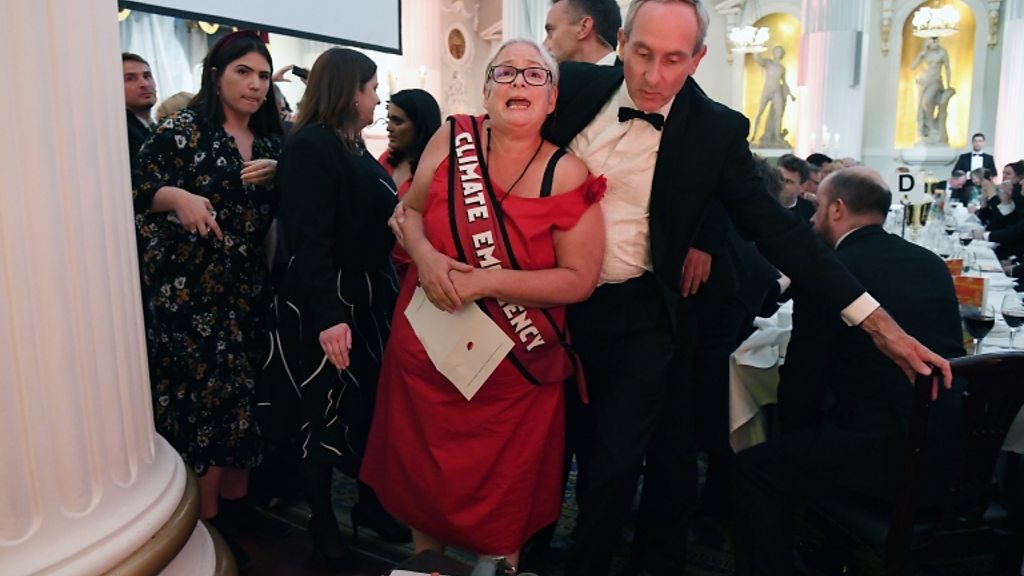 Climate change protesters disrupted the beginning of Chancellor Philip Hammond's Mansion House Speech.
They were removed from the City of London event after several minutes and Mr Hammond was able to continue soon afterwards.
"The irony is that this is government that has just led the world by committing to a zero carbon economy by 2050," said the chancellor.
Greenpeace said: "Business as usual is no longer an option."
The organisation said 40 activists had "gatecrashed" the chancellor's speech.
Climate campaigner Areeba Hamid, said: "The real bottom line, the priority that needs to come before all others, is not profit, revenue or growth, but survival.
"That needs to be recognised in every boardroom and on every balance sheet, starting with the chancellor's."
Mr Hammond was met with applause as he restarted his address, where he suggested the next prime minister would need a "plan B" to the Brexit deal that was rejected by Parliament, or face another referendum.
He warned about the economic impact of a no-deal Brexit, and said £150bn of spending commitments would "all be at risk if we don't get Brexit right".
These commitments include an extra £20.5bn for the NHS by 2023, as well as £44bn for new housing and tax cuts, a fall in the national debt and unemployment, and a rise in employment.
At the event, Bank of England governor Mark Carney made his final Mansion House speech, which was about the future of finance.
Mr Carney, who ends his tenure as governor in January 2020, spoke about a new economy driven by changes in technology, demographics and the environment.
Get more stuff like this
Subscribe to our mailing list and get interesting stuff and updates to your email inbox.