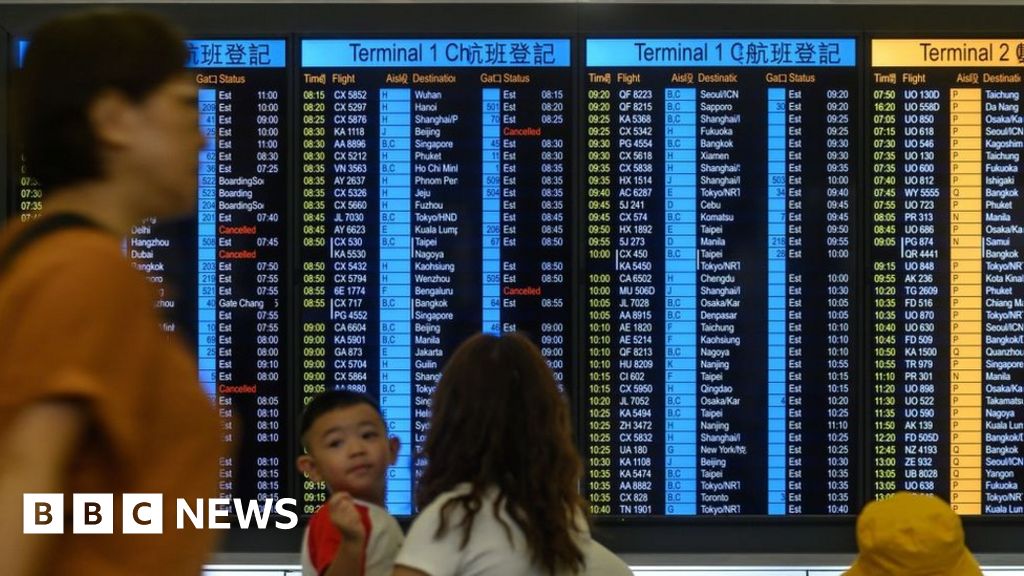 Hong Kong airport has resumed operations after a night of chaos which saw protesters clash with riot police.
Hundreds of flights were cancelled on Tuesday after protesters flooded the terminal buildings.
Early on Wednesday flights appeared to be running as scheduled, though some still remained delayed or cancelled.
After days of disruptions, the Airport Authority said it had obtained a temporary injunction banning protesters from entering certain areas.
It said in a statement that people would be "restrained from attending or participating in any demonstration or protest… in the airport other than in the area designated by the Airport Authority".
Additional security measures have been put in place restricting access to the terminal – with only staff and passengers with valid boarding passes allowed in.
Hong Kong is in its tenth week of anti-government protests.
What happened at the airport on Tuesday?
The airport, one of the world's busiest, has been the site of daily protests since last Friday but they had been mostly peaceful.
On Tuesday, protesters blocked travellers from accessing flights, using luggage trolleys to build barriers, and staging a mass sit-down.
Some protesters held signs apologising to passengers for the inconvenience caused by their demonstrations.
However, things escalated when one man was set upon by protesters reportedly because they thought he was an undercover police officer.
Police, wearing riot gear and brandishing truncheons, later arrived at the airport and clashed with protesters.
In one video, a policeman is seen frantically drawing his gun on protesters after being attacked with his own truncheon for manhandling a woman.
Hong Kong police said the officer's life was "under great danger" and insisted he only drew his gun "out of emergency and necessity" and "exercised great restraint".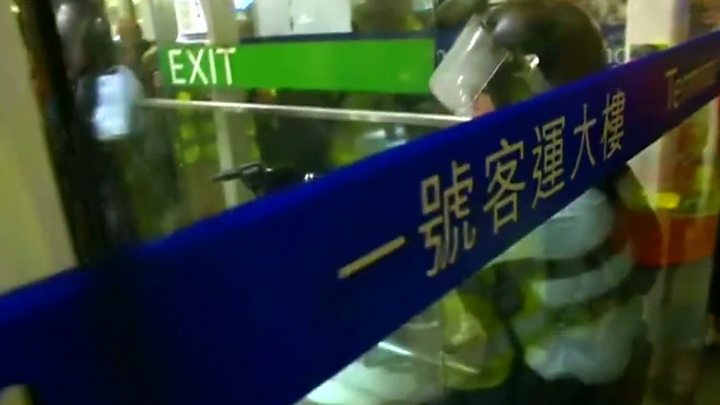 Protesters had boxed him into a corner after prying the baton from his hands during a violent skirmish. After collapsing to the ground, the policeman was eventually dragged to safety by his fellow officers.
At least two other men, also suspected of being police officers, were also confronted by protesters. One was held for several hours and his hands zip-tied. Paramedics were initially blocked from evacuating the man, even as he appeared to lose consciousness.
The actions came after Hong Kong police admitted on Monday that disguised officers were being planted among anti-government protesters.
The editor of Chinese state media outlet the Global Times later said one of the men attacked was a reporter from the outlet.
The BBC's Asia-Pacific editor Michael Bristow says Chinese censors are allowing a video of the reporter's ordeal to be shared in mainland China, where news of the Hong Kong demonstrations is strictly controlled.
On Wednesday, police likened the treatment of the men to "torture" and said they had arrested five men.
Overnight, protest groups issued online apologies for the violence, saying they were "scared" and appealed for help.
Some also handed out apology leaflets and chocolate to people arriving at the airport's train station.
Separately, the Hong Kong-based Cathay Pacific airline has fired two pilots for protesting after China demanded that they suspend personnel involved in the demonstrations.
At the scene: "Fight for freedom"
By Pody Lui, BBC Chinese service, Hong Kong
"Fight for freedom, stand with Hong Kong" could be heard clearly in the arrival hall on Tuesday. Protesters were handing out posters to arriving tourists about what had happened in the past two months in Hong Kong, particularly an incident that happened on Sunday in a police dispersal action.
A female protester was shot in the eye by police with a bean bag projectile.
Occasionally, there were "mini-parliaments", where hundreds of protesters gathered and discussed what was next and how to encounter some possible scenarios in a peaceful manner. Everybody got their say as long as they raised their hand.
Tourists undoubtedly were affected as they were not able to get into the security check area. Some cried, some chose to sleep through it. But some protesters offered to help them, including looking for accommodation, offering free food and drinks, and certainly apologising to them.
What has the government said?
The Hong Kong government has condemned the violence at the airport, saying it would take action against those found responsible.
In a statement on Wednesday, it called the "violent acts… outrageous" and said that they had "overstepped the bottom line of a civilised society".
It added that the police would take "relentless enforcement action to bring the persons involved to justice".
China's Hong Kong affairs office condemned on Wednesday what it called "near-terrorist acts" at the airport.
Anti-government protests started in June in response to a proposed extradition bill, which has now been suspended, but have evolved into a more demanding pro-democracy movement.
They are being fuelled by fears that the freedoms Hong Kong enjoys as a special administrative region of China are being eroded.
---
Are you at the airport? Have you been affected by recent events? If it's safe to do so, you can share your experience by emailing [email protected].
Please include a contact number if you are willing to speak to a BBC journalist. You can also contact us in the following ways:
Get more stuff like this
Subscribe to our mailing list and get interesting stuff and updates to your email inbox.