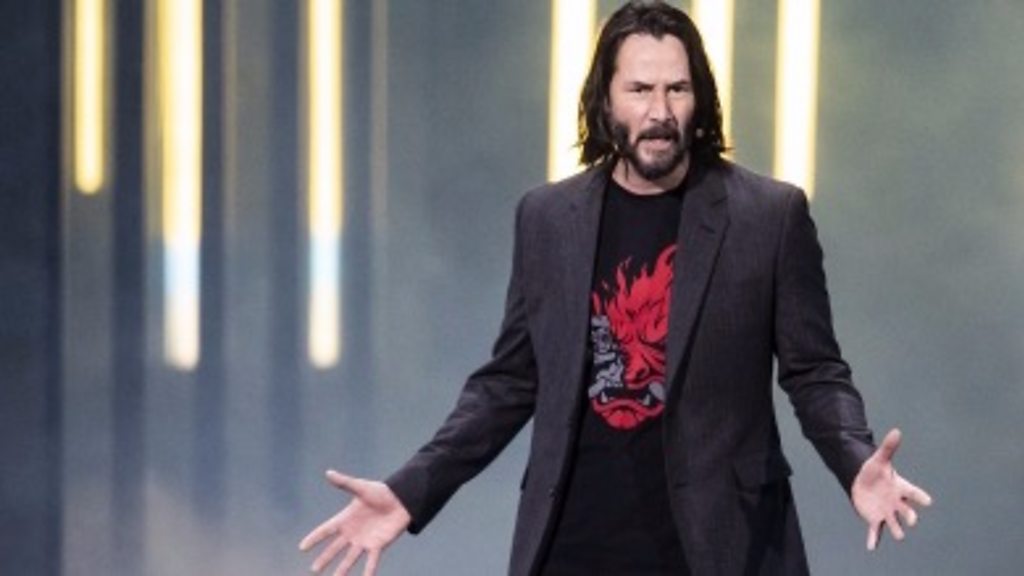 Microsoft has announced that its next-generation console is set to go on sale before the end of 2020.
Codenamed Project Scarlett, the firm said that the machine would be the "biggest leap" over a previous generation there had ever been.
At the E3 games expo, Microsoft said the custom-designed processor, made by AMD, would be four times more powerful than that of the Xbox One X.
It added that Halo Infinite would be among its launch titles.
However, the company did not show off what the device would look like, or reveal its intended price.
The announcement follows similar promises made by Sony about the forthcoming PlayStation 5, which is also still in development.
"As expected, with a next-generation Xbox release being at least 17 months away, a full reveal didn't happen," commented Piers Harding-Rolls from the consultancy IHS Markit.
"Sony had done a similar reveal of next-generation power at a previous investor event, but Microsoft's exposure at E3 and the announcement that Halo Infinite will be a launch title will have positioned it strongly, especially with the US audience."
Other details shared about the Xbox One successor included that it will:
allow games to be played at up to 120 frames per second
support 8K-resolution playback, although it was not clear if this would be limited to video-streaming, or include games as well
allow real-time hardware-accelerated ray tracing to create more realistic lighting effects
contain a solid-state drive, which will help reduce load times
Xbox chief Phil Spencer also strongly hinted that the machine was being designed to take advantage of new internet capabilities, but did not provide specifics.
"When we talk about Xbox in the cloud, when we talk about streaming your games, Project Scarlett and all of its power and all of its performance is the foundation of our future in console and the formation of our future in cloud," he said.
Cyber Keanu
Another highlight of the Xbox's press conference was a surprise appearance by Keanu Reeves.
The actor strode on stage to reveal that Cyberpunk 2077 is set to go on sale in April 2020.
The future-set role-playing game is being developed by CD Projekt Red, the studio behind the Witcher series.
Reeves – who has starred in the Matrix trilogy amongst other sci-fi movies – will also appear in the title.
His brief appearance drew huge applause with one attendee shouting: "You're breathtaking."
"No, you're breathtaking," the actor ad-libbed in reply to laughs from the crowd.
Reeves' involvement guarantees positive publicity for Poland's CD Projekt, which had faced criticism for reportedly putting its team under pressure to do "extensive overtime" to have Cyberpunk 2077 ready to demo at E3.
Another unexpected announcement was Microsoft's takeover of the indie studio Double Fine Productions.
The San Francisco-based developer is famous for titles including Psychonauts, Brutal Legend, and Broken Age.
Its chief Tim Schafer was also responsible for classics including The Secret of Monkey Island, Day of the Tentacle and Grim Fandango.
Mr Schafer told the audience that he would be a team player and was even willing to work on "Excel stuff" – referring to Microsoft's spreadsheet software – before adding "I was totally lying".
Cloud gaming
Microsoft showed off about 60 titles in total at its show.
Other games included:
Elden Ring – a fantasy title created in collaboration between Game of Thrones author George RR Martin and Dark Souls director Hidetaka Miyazaki
Minecraft Dungeons – a four-play co-operative adventure spin-off from the original block-building game
Blair Witch – a "found footage" horror title based on the 1999 film
The Outer Worlds – a planet-hopping first-person role-playing game
a Lego-themed expansion to Microsoft's Forza 4 race-driving title
Microsoft also announced that it has launched Xbox Game Pass PC – a subscription service that will allow console titles to be download and played on Windows 10 computers.
It said 100 games will be included, including Forza Horizon 4, Metro Exodus and the Halo Master Chief Collection. It will charge $9.99 (£7.85) a month to be a member, and users can combine it with an Xbox Live Game Pass Console – which lets games be played on the Xbox One – for $14.99.
The firm is also planning to launch a "beta" test version of a separate service – xCloud – in October. It will stream Xbox One games from either the firm's data centres or users' own consoles to other devices, including smartphones, allowing gamers to continuing playing when away from home.
Microsoft said attendees at E3 would be offered the first public hands-on demonstrations of the technology.
It should offer a similar experience to Sony's Remote Play, but some attendees were expecting more information to have been disclosed.
"Less details about the service were forthcoming than perhaps expected, calling the idea that it will launch in 2019 into question," said Mr Harding-Rolls.
Microsoft's move comes ahead of the launch of a rival games-streaming service from Google called Stadia. The search giant plans to begin streaming titles in ultra-high definition 4K from November.
Amazon is also rumoured to be working on a cloud-based platform of its own.
"The fact everyone is moving into the streaming space is an indication that everyone is on the right track to where the gaming space is moving to," Russ Frushtick, co-founder of games news site Polygon told the BBC.
"The benefit for Microsoft is a subscription model. You can pay [a monthly fee] and then you can stream it to a [low-spec] laptop."
Microsoft is the only one of the big three console-makers holding a press conference at the Los Angeles expo this year.
Sony has opted to skip the event outright.
Nintendo will rely on a pre-recorded video presentation – as it has done since 2013 – but will host a showroom booth where it will demo new games.
The Nintendo Direct event is scheduled for 0900 local time (1700 BST) on Tuesday, the same day E3 formally opens its doors.
Who knows what Microsoft's business strategy with gaming is?
I certainly don't after watching that – but then maybe that was the point. This is a company keeping its options open.
I see it shaping up something like this: the new console will be for serious gamers, the types who demand the high-fidelity, premium experience. The type of people who are at E3, which is why the news of the new console was met with such excitement in the room.
This crowd was less excited about xCloud, the streaming service, but that's likely because this will be about attracting more casual fans, who are satisfied with the quality Microsoft will be able to deliver down an internet connection.
But Google's Stadia might get to those gamers, that enormous market, first. It launches in November, while it looks like xCloud won't go fully online until early next year.
Phil Spencer, head of Xbox, told me his company's experience – its been in gaming for almost two decades – will give it an edge.
Get more stuff like this
Subscribe to our mailing list and get interesting stuff and updates to your email inbox.